Our Staff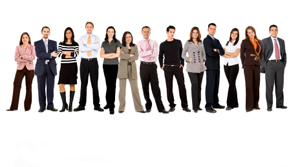 Although we're proud of our products, services, and technology, nothing matches the pride we have in our staff. You see, we learned long ago that we're really in the business of building relationships. For that reason, we put a premium on hiring only the most qualified individuals to serve on our team.
Every person at Rio Rancho Printing is committed to providing excellent customer service and producing high-quality products and services. As you work with us in the future, we're confident that you'll find this to be true.
Departments
In working with us, you'll find that our company is not overly regimented. Everyone understands their role but is willing to help out wherever needed to see a job through. You'll never hear a member of our staff say, "that's not my job."
Though we believe whole-heartedly in this open approach, it's necessary to separate our company into a few departments. Whether it's Customer Service or production, it takes everyone we have to make our clients look their best.
Our customer service staff are responsible for building strong relationships with our ever-expanding client base. They work on the front line to ensure that every estimate and order is handled professionally and meets the quality expectations of our clients.

- Establish and build client relationships
- Efficient order-taking and job analysis
- Quality Assurance -- final quality check
- Coordination of files for accuracy in reordering
- Pick-up and delivery

Our designers have extensive knowledge of all major computer page layout and graphic applications including Adobe InDesign, PageMaker, Illustrator, Photoshop, and CorelDraw. They create nearly every job we produce from concept to final proof and are experts at layout and composition.

- Efficient creation of originals
- Ability to accept files from all formats and work in a cross-platform environment
- Thorough electronic archiving of client jobs
- Awareness and implementation of new technologies
- Familiarity with virtually all external storage devices
- Provide clients with basic software technical support

Our finishing services department handles everything from basic cutting, folding and laminating to more elaborate mail preparation and booklet-making services. Our full range of bindery services allows every job we produce to go out the door ready for distribution.

- Comprehensive understanding of various finishing machines -- folding, cutting, binding, laminating, booklet making, etc.
- Collects samples for file management system
- Quality Assurance

We utilize proven technology and equipment to ensure that our printed products are of the highest quality. Our professional press-operators are masters at maintaining ink consistency and coverage, maintaining accuracy, and meeting tight deadlines.

- Maintains equipment to ensure optimum efficiency and quality
- Extensive knowledge of pre-press technology -- film, metal/poly plates; ink mixing
- Extensive knowledge of chemical usage and disposal
- Quality Assurance